Acorns love having daily phonics in Nursery. It is good to see they are reinforcing and developing these crucial skills at home.
Acorns are busy practising their phonics and sound recognition.
Going on a phonics hunt
Building CVC words using their phonics sounds
Writing phonics using different materials – flour, sand, water and soil.
Growing as independent writers.
While the sun is shining try a game of water phonics.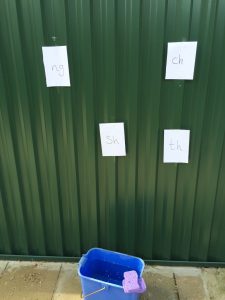 Ask someone at home to say a sound then you soak the correct sound using a sponge, water pistol or feel free to be inventive!